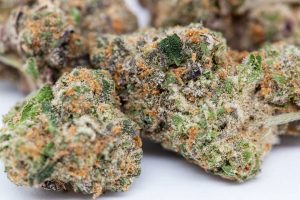 Girl Scout Cookies – Hybrid
Girl Scout Cookies (GSC) is a classic stoner strain, a true favorite by many senior stoners. This Indica heavy hybrid helps reduce stress and increase happiness, how could you not want that?! Today you can find Girl Scout Cookies almost anywhere on the map, and it's quite obvious why! 
Now for the technicals, Girl Scout Cookies is a 60% Indica and 40% Sativa cross between OG Kush (hybrid) and Durbin Poison (Sativa). It is said to have an earthy, sweet and flowery flavor profile. 
Effects: Girl Scout Cookies will make you feel happy, relaxed, euphoric, uplifted and creative. Sign me up!
Medically: GSC is great for stress, depression, pain and insomnia. Next time you catch yourself laying in bed, unable to turn off your brain, just grab yourself some Girl Scout Cookies.
If you're looking to get the munchies, hang around and have a relaxed time, try some Girl Scout Cookies, we promise you won't regret it!